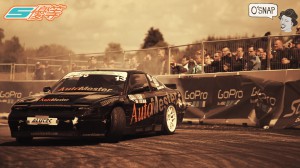 Need a smile on your face? Love tire-smoke, partying and general fun-loving nature?
No, this is not GATEBIL but close enough as "Danmarks Hurtigste Bil" is something definitely in the very same league!
This great event is also one of those unique "Festival style" car events with a lot of love for tire smoke and crazy driving.
Our Norwegian virtuoso behind the camera Daniel "O'SNAP" Hovdahl was there and captured the true essence of it, supporting his countryman Kenneth Groth who competed at the event.
Enjoy!
– – – – –
VIMEO:
O'snap – DHB: Danmarks Hurtigste Bil 2012 from Daniel Hovdahl on Vimeo.
– – – – –
[nggallery id=440]
Anyone who really digged this movie? Show your appreciation for more productions like these by "Sharing" it and encouraging people to like the SUPERIOR FACEBOOK and naturally the same with creator Daniel "O'SNAP" Hovdahls!
Enjoy it as much as you possibly can, this clip definitely made us make "DHB" a must visit event next year!