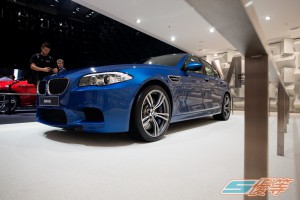 Solidifying the Top 2 brands at FRANKFURT IAA 2011 MOTORSHOW is BMW who didn't have the same amount of news as Mercedes, but their new generation M5 F10 (see VIDEOCLIP HERE) was still a big draw we had talked about before the expo started.
Since it just happened to be so, we attended their press-release first thing and were totally blown away by the size of media/HiFi equipment used in their presentation.
Sound was crisper then any home cinema I have ever enjoyed, and seeing the cars rolling on the almost velodrome like surface was cool as sh*t to be honest!
They would later be trumfed by Mercedes (in my opinion) but getting into the Top 2 when there are still big brands like VW and Audi among others to compete with… well not bad at all. Hee we go, as usual its maestro Martin "BILBILDER.SE" Persson who has done the photographing: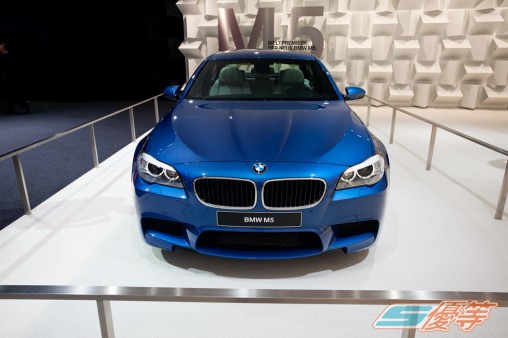 (And here he is, the meanest but still "squarest" guy in town! Picture a Clark Kent without his glasses and innocent look, doing what his Superman alter ego does best- kick ass! We were truly raving about the front end of the car which had me thinking some toned down Ferrari F430 Scuderia design. Everything including the engine which is a Twin-turbo V8 makes perfect sense on this car…)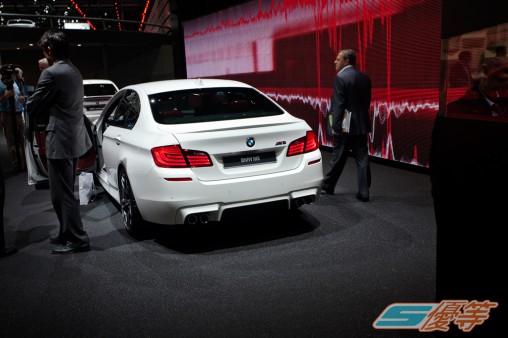 (…and a shot from the rear, this time in even more innocent white colour. Perhaps they went a little too subtle with it, and its possible the only part of the car I would "dress up" with something more agressive. Got any ideas?)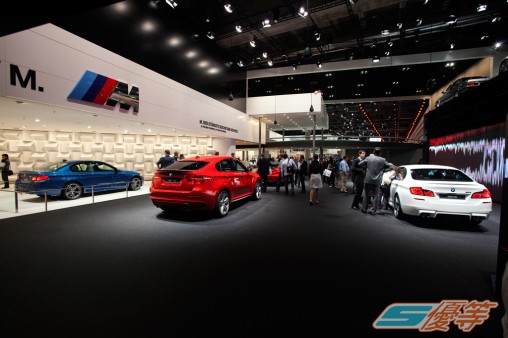 (The catchphrase is "The most powerful letter" or something to that extent, but M has become more then their top of the line performance beast; and more about offering for example bodykits from factory to your regular model. Doubt this is news for ya'll as there has always been "M-packages" available, but they seem to market it more openly apart from their M3/M5 etc now. Will it water down its true status…?)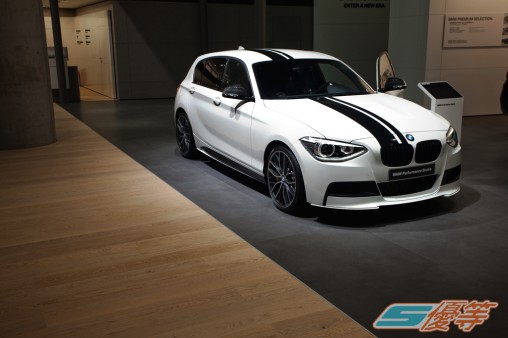 (Even the standard 1-series has its own M-package now and it sure does give it a nice "little package of dynamite" sort of look, doesn't it? Apparently Martin had a friend who had a real 1M coming his way soon, so you could feel the good-hearted jelousy right there. This aint it, but could be better on a budget? Still feel its more of a "car for the girlfriend" kind of model, hate me all ya want!)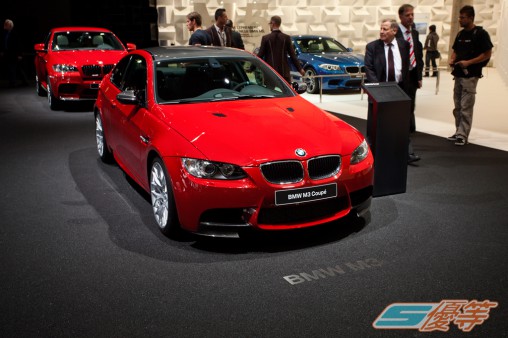 (Nothing new on the BMW M3 front, but Martin insisted that its a damn shame so few dare to try the classic red colour on this sleek machine? Perhaps its more common practice to use something more "conservative" just like the stale and correct Germans would like it; but I do agree the car does look bad-ass apart from the silver wheels which need to go gun-metal or flat black now!)
[nggallery id=362]
Maybe not that fair of a gallery to show how big their presence was, but I can honestly say its much clearer on how much bigger and more news-filled Mercedes was. You have to remember that they sort of semi-shared their stall with Mini Cooper and Rolls-Royce as well…
Finally getting somewhere is trying to recap the FRANKFURT IAA EXPO this year around, all these SUPERIOR SELECTED galleries give a decent look of it anyway- and then you got the "100 seconds of.." HERE to give you a glimpse of each car as well.
We could blog all year around if we gave everything a deeper look, but hope you like that we keep it in a "bloggy" entertaining way instead… 🙂