In the shadow of the two giants BMW and Mercedes we have the always ambitious VW brand Audi doing their best to keep up. They had setup their own built from scratch call in the middle of the whole expo landscape, and offered a cool design with car being testrun "around us inside" (hard to explain).
Among the news this year were a bunch of new S-models and facelifts of their normal car, also the top of the line Audi R8 GT Spyder. We liked their thinking and probably got their deserved attention for their efforts, this gallery represents a bit of the flair…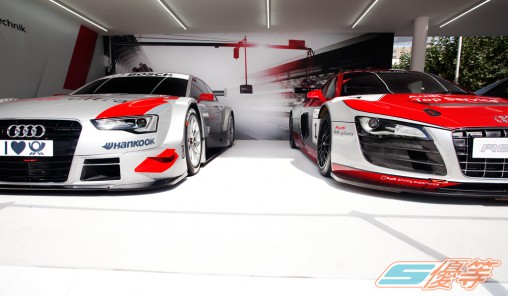 (With a bit of a compromise, at least Audi did bring some of their racing livery to the expo. But they did not get a seat inside the fancy built from scratch building, instead they stood in their loneliness outside a bit scuffed away. Still giving them props for showing them, the Audi A5 DTM is new for this upcoming season…)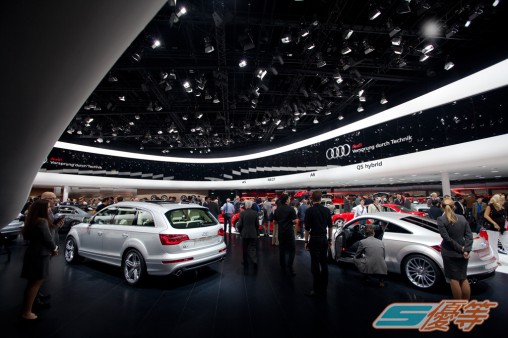 (Here is a great shot of how it looked inside, as always with this borderline pretentious brand- we got a lot of "piano white/black" surfaces and nice tinted glasses. From this angle you dont see that there was a very small track built "around" the structure where cars passed by from time to time. The TT-RS and GT Spyder made some nice noise sometimes…)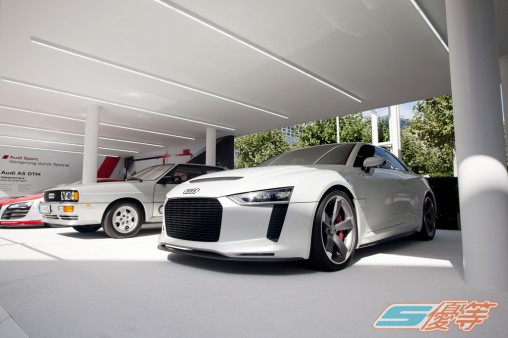 (A concept I myself was looking forward to seeing was this new Quattro which is a revival of the 80's where Audi as we all know ran Group B and such. Sadly it seems this wont get much further then being pushed out in the open next to the "priority B" racecars. Good or bad idea by Audi to scrap it from production?)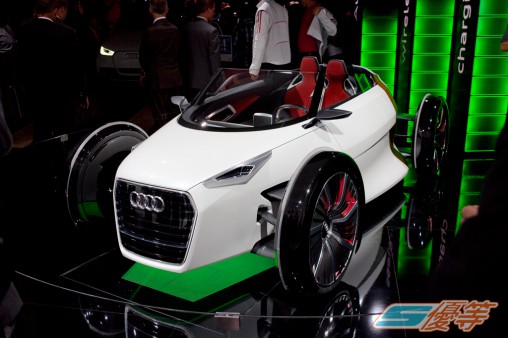 (Another concept that is aimed towards really compact cars with attitude to roam the city with. Martin got quite attached to it on location, I just get colds shivers down my spine thinking about fitting in such a car- the future seems like a rough place for guys like me who are aroun 2m tall…)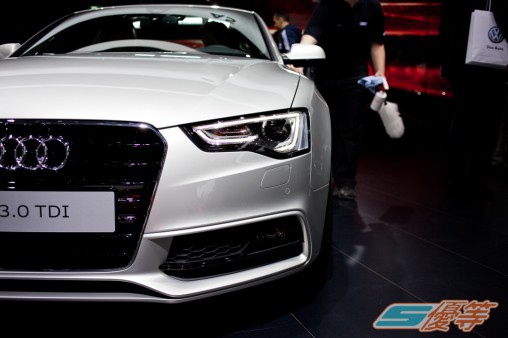 (The oh so popular Audi A5 got its facelift and even sharper lines seems to be the melody of current trends at the moment. I have a soft spot for the A5, but being totally honest here; its because its like a "poor mans Aston Martin" or something like that.)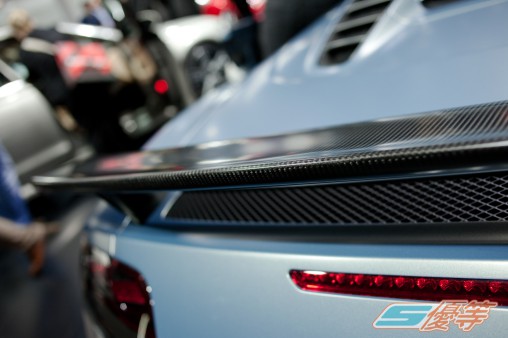 (In the "100 SECONDS OF AUDI R8 GT SPYDER" VIDEO we did point out that the class of carbonfibre was among the highest of the entire expo on Audis cars. Just an amazing mix of perfect weave with the right balance of clear coat to set it off totally. Surely it was among the cars that gave the most "want one" cravings looking back…)
[nggallery id=367]
And thats Audi for ya, I think there is a pic somewhere on how the structure looked from the outside. Martin said in some naughty fashion it looked like a giant pile of whale-crap  dressed up in fance white or something like that??
This gigantic expo is killing me, never realised that two days could give so much to write about. And we still skipped over around half of what was shown there since it only gave a mild rise of the pulse passing it by…