Here is the final piece of the ACTION MEET 2012 puzzle, a race report from the weekend from SUPERIOR DRIFTS point of view.
Enjoy some of our photos taken by SUPERIOR SELECTED Carl Kjellberg. Some snapshots with the iPhone too.
We would like to thank BILSPORT for hosting us, and really hope this becomes an annual thing- because despite that there were quirks to work at… the driving kicked ass which you can read here in the RESULTS and GALLERY!
– – – – –
Departure —> Arrival:
We have slowly been finding a team formula making our lives much easier in simple things. No bombastic plans were made here, except for the team to perform and meet the criteria for media for our hosts BILSPORT.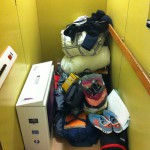 As a precaution, we called in Daniel Hovdahl (O'SNAP) to really add some cream to our library of material. You have not seen much promo-material for Superior Drift, but we have a long and exciting low-season coming up where the foundation for 2013 will be layed- so except more then one surprise to show what we are truly made of…
For Action Meet beforehand, we needed some basic graphical stuff made which Daniel whipped up in a basic lunch break- Then to prepare and to pack enough stuff to eat, breathe and sleep this event for 36 or so hours.
That turned into a bit more then we had imagined, but surprisingly enough the Superior Drift street Soarer swallowed it all and we had a comfy ride.
We are blessed to have good friends all around the scene, and our own official Pro Racedriver Alx Danielsson had his old garage at Mantorp Park which we could set base.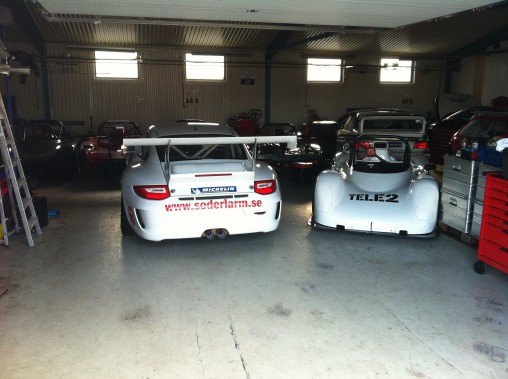 You should all do yourself a favor and support this incredibly talented and unique guy on his march back to the top in Swedish racing, we are doing simple stuff for him at the moment and enjoying every minute of it- and as our standard saying goes… more is coming your way.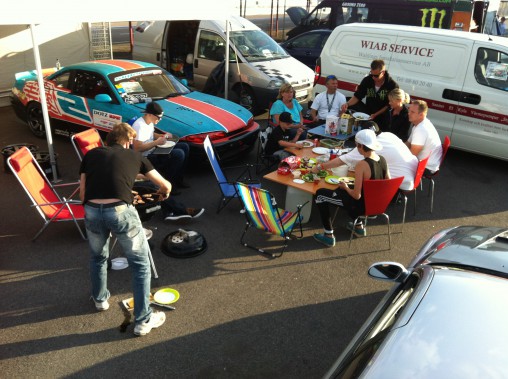 Backbone is the Asp family, along with friends of Thompa and Daniel.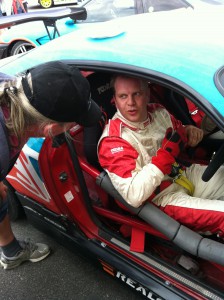 A good group, and we had a cozy evening together dining in the sunset *naw* before retiring in good time at our garage.
The "family within the family" was strongly gathered as Superior Drift has become a "cell" within at just this short time.
Apart from a highly annoying and regressed group of car audi guys and their probably "freudian" size of bass; we had a good night of sleep neatly tucked between a whole bunch of race cars.
Don't say you "Eat – Sleep – Race" unless you've tried this experience!
– – – – –
Preparations for race:
The mood was surprisingly loose at the morning as we had another "family style" breakfast buffet.
The days of flashy race trailers and set tables are a few years ahead, but everyone are chipping in and its always a pleasure to get started on raceday!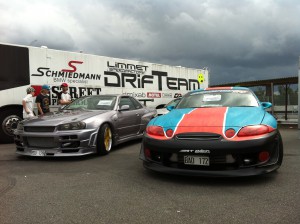 Our event sponsors AT Däck arrived in good time, owner Aldin was a real soldier and found his way to switch us up for fresh meat to devour.
He arrived together with a real good friend and owner of a "Superior imported" Skyline ER34 with a widebody Crossfire kit. Yum!
Thanks to Micke Svensson for letting us his tire-machine. We hope AT Däck appreciated the rented space for this event, and we would love to develop this formula for future events too- as 2012 for us is a a way of just getting established and just pursuing much sponsorship (yet).
While the guys were getting prepared, I went looking for cars to feature and throw an extra eye on.
Especially for our Ten of the Best list, but a separate report from this is coming and we will have plenty of tasty pics from our SUPERIOR SELECTED man Carl Kjellberg (damn buff guy too, no homo!).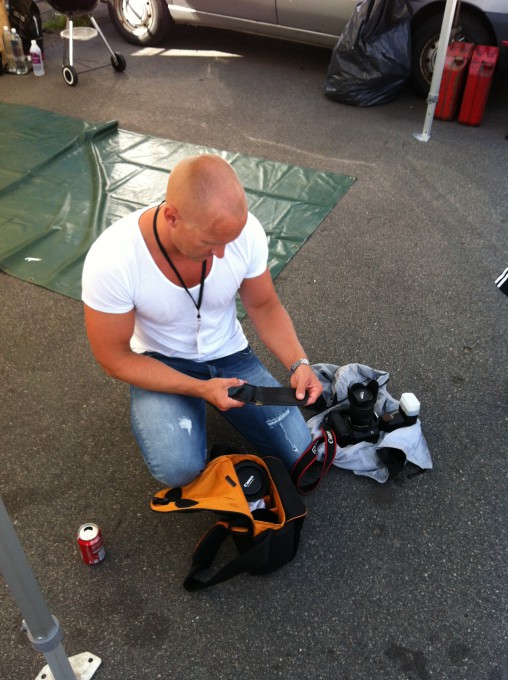 – – – – –
Training:
Frustrating enough, the logistics of this event is quite a challenge to pull of. As they run some of Swedens sharpest "semi-streetable" drag cars on the long straight on Mantorp Park; they were hoping to let the drifters run in between.
Big no-no to be honest, and it even had "cool as a rock" Lasse Asp Sr boiling with restlessness as drifting is an adrenaline-sport.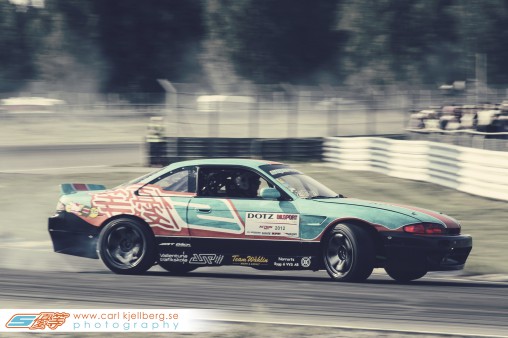 No proper and continuous training not only hurts the contenders, pretty sure the crowd at this point felt a bit cheated- but it was picking up later on.
But at least Superior Media mainstay David Johansson had plenty of time to shoot material in the pits: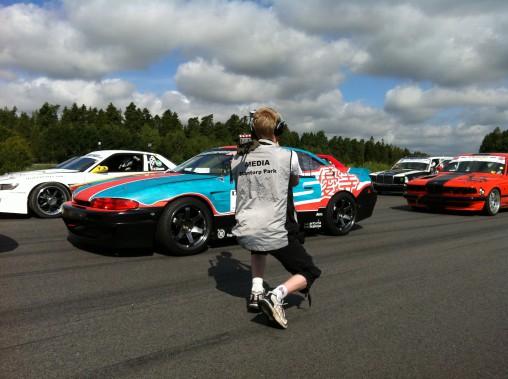 From each drivers perspective, here is what they had to say together with a few quotes from other parts of the crew:
Daniel Asp: "I have a lot more angle now, just need to find speed. Probably avoid the sand a bit too, although it was a quite effectful and even got a scoop of it in the car… Ooops!".
Thompa Pettersson: "Gearing is new for this event, and I haven't found the "sweet spot" yet where I can dump the clutch well through gears in turns. Working on it!"
Björn Runfeldt (spotter): "They need to commit more, speed speed speed. Maybe a bit of confidence lacking here, lack of training doesn't help that."
– – – – –
Qualification:
With bland results and practically futile amount of training, it was getting into the qualifiers with low expectations.
Daniel was first out with the Rocket Bunny styled S14, and struggled badly in his first run- straightening out several times and not having any speed. Could almost feel a lot of hesitation from behind the wheel up to the rafters.
Second run was even worse, sliding quite badly into the sand with a jump that could make it into an episode of the "A-team". Unfortunately something got caught in the impact, and he got the worrying "low oil pressure" warning meaning it was over this time around…
Thompa seemed to had gotten over some of his deamons, with decent speed on initiation and clutch-kicking his way around the track.
He didn't burn the house down, but decent strides forward and should be enough for a Top 16 qualification.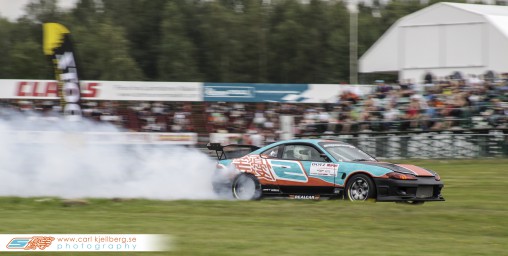 In all honest and brutal straightforwardness, this was easy to predict- not only for our team but for many others too except for maybe the top echelon of drivers = Lack of training meant very shaky runs, and add to that long periods of waiting for being allowed to run.
Actually the other half of drivers could have taken a lunch break when qualifiers started until the first one had run. Imagine that if it was a sleepy experience for the crowd, how much of a looong enduring pain it must be for a drifter filled with adrenaline?
Tough cookie, we'll just have to find another way to bite it next time!
Elimination: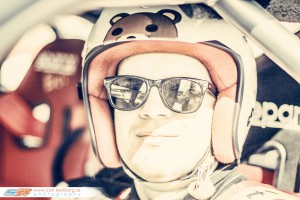 Sadly, the writing on the wall for Daniel was done pretty early. And he was quite disappointed in the pits being out of the Top 16.
But we all have our focus on the future and are at great spirit anyway!
Nothing to add to that, another rock added to the foundation of building experience in proper race mode- which undisputedley cannot be argued can be replaced by but grinding it out competition after competition.
Thompa had a tough opponent after slipping in qualifying 15th, going up against a car and driver filled with a desire for vengeance: Limmet DrifTeam.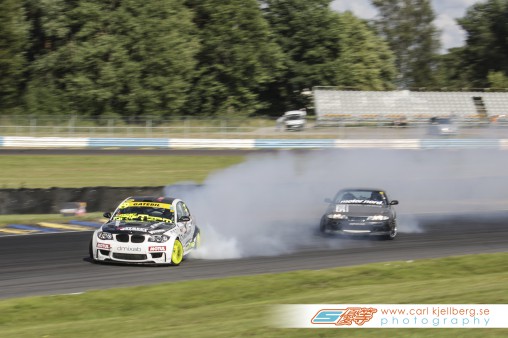 This 1-series BMW has been something we've followed since its premiere at ELMIA EXPO 2012, and just as he had sorted out the chassis of the car and gotten good results in all events attended- busted his gearbox during Gatebil Rudskogen.
But now he was back, and with a vengeance; although he was hitting dirt in the lead run and giving Thompa a proper chance to advance… the Superior Drift driver was stressed out by the Supercharged german V8 and ventured far into the sand in the 2nd run.
Only highlight was that he got a decent jump on the Bimmer and the "what if" he had held it… is not of any interest at all actually.
Competition over!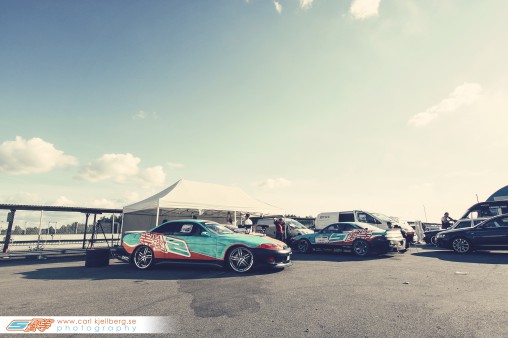 – – – – –
There is a lot more to be said and some pictures to be added, but we'll work on this report and hope you check out the SUPERIOR DRIFT FACEBOOK until then for more!
Thanks to everyone who supported us this weekend, and with the pics in mind- especially Carl Kjellberg!