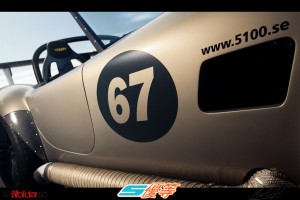 Seeing this car has already gained plenty of attention abroad, we'll do this feature in english. Its such a cross-over car eventhough lots of "hot-rod" media has done coverage of it.
I can see so many different "tuning syle" inspiring parts in it, and that combination in my opinion makes this Cobra unique and in the greatest possible way impossible to label in a specific "auto-enthusiast category" of a build.
The owner Magnus Jinstrand also let us shoot some video of it at Mantorp Park which we hope to make a "ride experience" movie with. Just that deep intimidating sound this Mercedes SL600 V12 engine with Lysholm Supercharger does will needless to say make that video worth watching.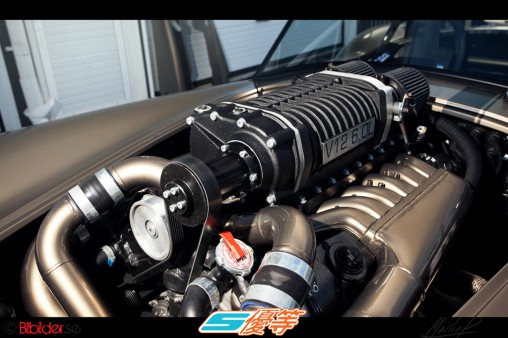 Plenty of thumbs up for our main-man in the photography SUPERIOR SELECTED section recently Martin "BILBILDER.SE" Persson (and yeah, click the link to discover his Facebook-page which he regularly updates with different shoots of exotic cars and much more!)
He has been a cornerstone in the late part of summer, and with *improved* effectivness learnt from just this seasons experience we have been able to offer quite a lot of features like this one. Really hope you enjoy them as much as I do writing them, but its really about the photos so lets get this gallery started! 🙂
(We start right away with the money-shot of this car, just trying to sort out whats unique is a total failure in itself; try to invert that by saying whats not handcrafted from scratch on this beast.  What was supposed to be a "fun car for the wife at the track" according to another article; has from my perspective rejuvinated Magnus own adrenaline-gland = this car will see plenty of action on the track now that "shakedown-season" is over and the car is running great having temp. and chassie issues almost sorted!)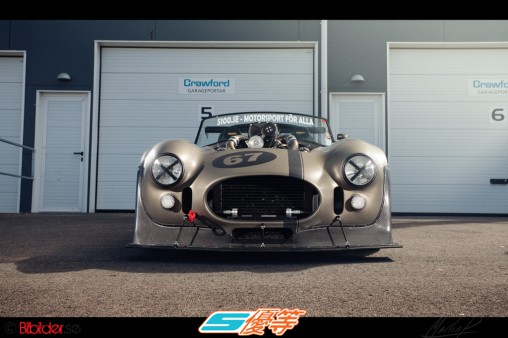 (Back in the day the original AC Cobra was built they used whatever they could to make it a sleek aerodynamic car. Welcome to a new millenium and see how we add downforce these days, that front lip was a pain in the a*s to make- but Magnus came through and it does wonders on the downforce. You can clearly see the stone chips that have already harassed the car, but only thing Mr. Jinstrand had to say about that was "its already retired from being a showcar" in extremely casual fashion.)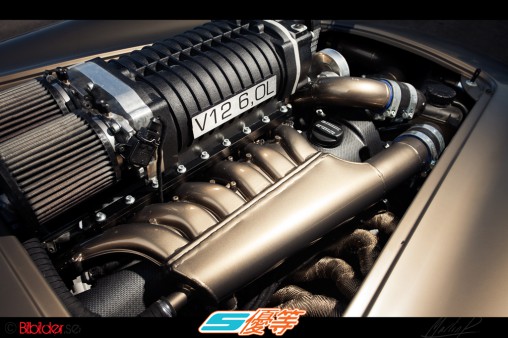 (One of the major things Caroll Shelby did with the AC Cobra before he made it "his own" was to make sure it could run a V8 engine. Well, in this day and age of very potent engines available at scrap yards; Magnus pulled a both sensefull and exciting choice of putting a Mercedes SL600 engine in it. Good for around 600BHP in their stock naturally aspirated form, the addition of a Lysholm supercharger and plenty of "made in Sweden" fabricated parts like those divine Intake manifolds… Its one of the most awesome engine setups ever witnessed!)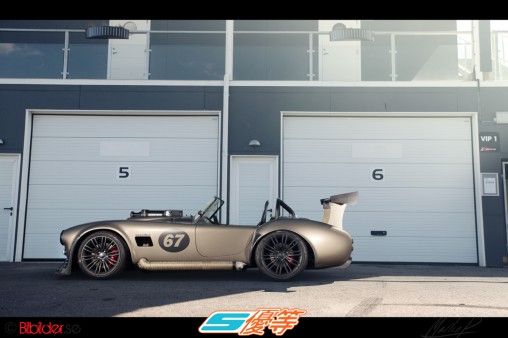 (Apart from its post-modern racing vibe upsetting the Cobra purists, the one thing which really creates bonfires of trolling comments in social media around the world is the gigantic GT-wing in the back which is derived from a racing Porsche 911. Pretty confident in its abilities to give downforce where its needed most, I highly doubt "haters" opinions bother Magnus much…)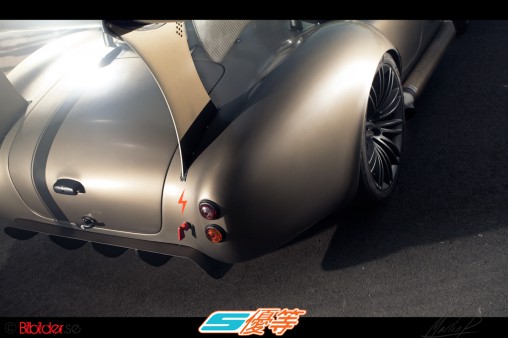 (This fantastic photo of light hitting its almost sexual curves really demostrate the Y in "YUM!" when it comes to the one of a kind colour. I cant really put my finger on what to call it, but a valiant attempt would be some sort of champagne/brown pearl with matté clear coat. Dont have a clue actually! Spot the custom carbon rear under diffuser and acknowledge even more of that sublime Swedish craftsmanship.)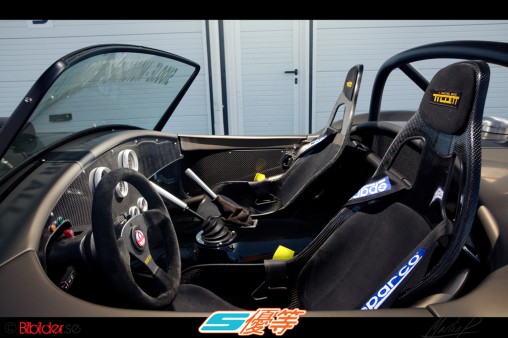 (One of the cleanest interiors I've ever seen, just amazingly to the point and would probably put a tear in old man Shelbys eyes if he saw it (pretty sure he has). First time I talked to Magnus when he debuted his car on Elmia 2010 expo he said it would probably be impossible to drive, but like I mentioned above its already proven to have performance to match its savage looks in its shakedown-season —> turned out it was surprisingly easy to drive afterall!)
I have to say this car has had my personal "man/car crush" (hybrid version) ever since I first saw it and rightfully named it the best build of the year 2010. And how can you not love Mr. Jinstrands attitude of putting all that performance to use instead of using it as an eternal trailer queen; ready to destroy any opposition at forums around the world while sitting in the garage! 😉
[nggallery id=352]
And yes, the above comments were a 100% clear dig at all you big talkers about there with mileage on your cars equal to the total of times you've accomplished something beyond the safe confines of your keyboards or now very old past bravado.
With that being said, we truly feel Magnus custom Cobra is one of the worlds most awesome car builds right now- and we look forward to follow him even more in the coming season!
Hit us up at OUR FACEBOOK if you like the swedish auto scene, and dont be shy to drop a comment below to discuss. We love a healthy discussion so just get it on! 🙂