After a long silence, we will give you quite a treat to forgive us as we give our SUPERIOR SELECTED guru photographer Martin "BILBILDER.SE" Persson the honors of releasing the first official photo of Superior Drift 2012! We spent almost 24 hours a few
sundays back shooting three of the official team cars, and also had some track time testing them out. But info about that is coming at a later stage (we love saying that these days) and we focus on this gorgeous sample Martin was kind enough to release if you promised you would LIKE HIS FACEBOOK PAGE and continue to support him. Not too much to ask, but we'll still leave it to you if its worth the effort if you really like the pic: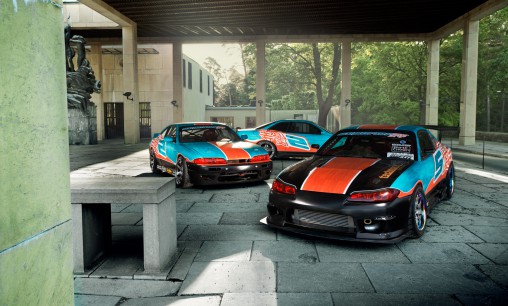 Martins own comments on this specific setting were that the environment was a pleasant surprise in the dwindling light of dusk: "I didnt have the occasion to prepare much before (which is something you have to be used to as a photographer), but seeing the temple with its surrounding area- I just felt it was the best place symmetrically with many contrasting textures. Having the morning light available for the threesome was a real blessing. Very satisfied with the result!"
– Martin "BILBILDER" Persson
We are very happy to bring you this desktop sized picture free from any watermarks (I guess the message of the pics is still kept quite clear). If you do want to "share" it, we would be extremely happy if you linked to SUPERIOR FACEBOOK and also BILBILDER FACEBOOK. Thanks in advance!