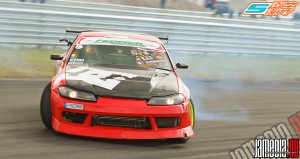 Cutting all the silky smooth material from FRANKFURT IAA 2011 EXPO we are offering you a bunch of Gatebil Rudskogen action that our SUPERIOR SELECTED photographer Ronny @ JAMedia shot a few weeks ago.
This isnt the big one when it comes to Gatebil events, but with all the new upgrades the Rudskogen track has gotten recently; it seemed to attract a damn solid bunch of nutty cars as usual anyway!
This is the first of three parts that will give you m0ar craving to visit any Gatebil event next year- first out is a little composed special with JDM-only cars showing which nation is the "king of the hill" when it comes to reckless powerdrifting!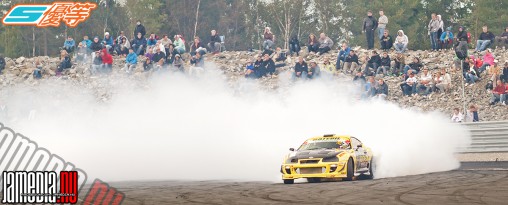 (I'll tell you right away, if you are allergic to the JZA80 Toyota Supra you better stay away from the gallery, as its loaded with more of this "eternal flagship of Toyota" then whipped cream is filled with um… cream? Anyway, one that is a notch or twelve above the rest is the Team Yellow car which was originally built by JUN Auto in Japan. I don't want to take credit away from the driver which I know is really skilled, but there is something else about that car that makes the angles, control and lots of extra smoke it dishes out seem logical = expensive and carefully selected JDM-parts!)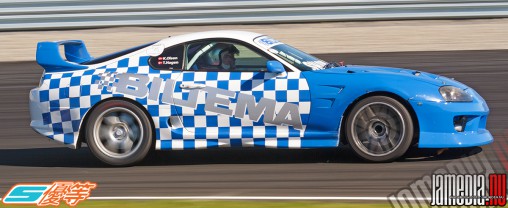 (Biltema (translated to "car theme") is a low cost huge chain of stores selling autoparts in Scandinavia. I have noticed they are getting involved more and more in events like Gatebil, and I would be stupid to hate down on anyone not liking that. Far from what the above Jun built Supra is understated with; any sponsor is a good sponsor if it helps you run your car at the insane way real Gatebil-drifters do. Get my drift here (pun intended and damn lame!).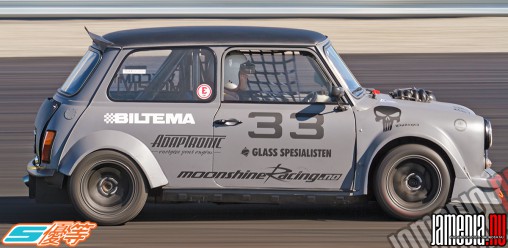 (Before you say this is a mistake well above the countless brainfarts I do in the "100 SECONDS OF.." VIDEOCLIPS I do know this car is not JDM. But guess what? Take a look just above the hood. Look closer… Hmm… Yes! That is a Rotary 13B-REW engine with its intake sticking out! I even know its an updated "Series 8" full engine swap meaning this car with full boost-up has just below 400HP of Mazda powah to it. We like!)

(If Iam not entirely mistaken, we got the DTS Systems Supra chasing the old Driftmonkey Soarer here in a clash between two favourites of ours. If you look at our GATEBIL MANTORP 2011 MOVIE you will know why, where especially this red Supra did a hell of a job entertaining us to the extreme. If anyone knows the driver, please tell him to get in touch with us as we are big fans of this car- same goes for the Soarer!)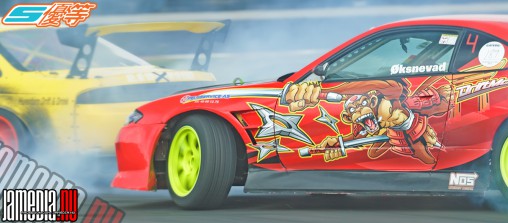 (Another team we are very fond of and always try to find ways of mentioning due to their sheer awesomeness is DriftMonkey! Maybe this pic doesn't leave more then a bunch of stuff for the imagination to figure out, but at least you get a clear shot of Öksnesvads Silvia S15 livery on the side of the car- the always rabid little apes do set the tone of the teams driving style overall!)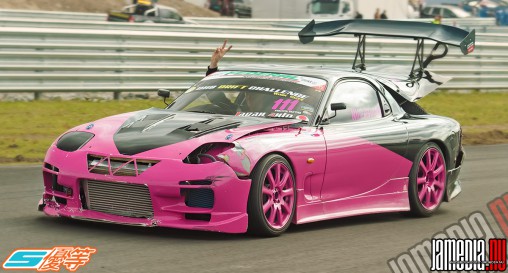 (Recipe: Take one RX-7 FD3S, put a wild colour on it together with an "quickly mashed up" body kit and then drift the living f*ck out of it and… you get this sort of result! Always nice to see the Mazdas represent, and we dont care if its a "semi-driftmissile" because its still cooler then 90% other cars out there!)
[nggallery id=369]
A real butt-kicker of a SELECTED GALLERY to start things off with, but the other two have  alot to them as well which Iam sure you will like. And using that word again, please do LIKE OUR FACEBOOK to see lots of random pictures and video showing up there, although its a priority to always check in with the Superior-blog here to know whazzap! 🙂
Dont forget to salute the guy who took these pics for us, find Ronnys JAMEDIA FANPAGE and "like" that as well. Geez, it really hurts my wrists asking for you to "like" and "like" and "like" again but…
…It encourages us to keep doing our thing so, big thanks in advance!