Our coverage together with REVOLT-IS (CLICK!) on the Tokyo Auto Salon continues, and we have a mixed batch of pictures coming with something for everyone.
Later during the day we got two smaller galleries of the different Nissan GT-R and Toyota AE86 / Subaru BRZ cars being exhibited.
Looking through the photographs taken by REVOLT-IS site owner Seiji, I see this years crop of exhibited cars is much better then last years expo.
But you still gotto wonder if it might be time to "re-invent" some of the styles that have dominated the tuning-industry for a while, like this RX-8 IMO does well: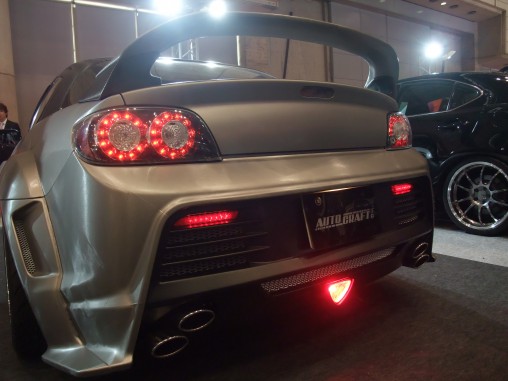 Not saying this style brings us something new, its just a fresh mix of many current trends such as "satin finish" paintjob, modern "diffuser-type" rear and interesting details with the Lexus IS-F exhausts.
Dont forget the fog/brakelights as well which really set this RX-8 off, just something about the final result which feels "quality" for me?
Furtherly looking at builds which fall into my taste, we got the Honda CR-Z Mugen concept that can also get a vote for being one that really stands out: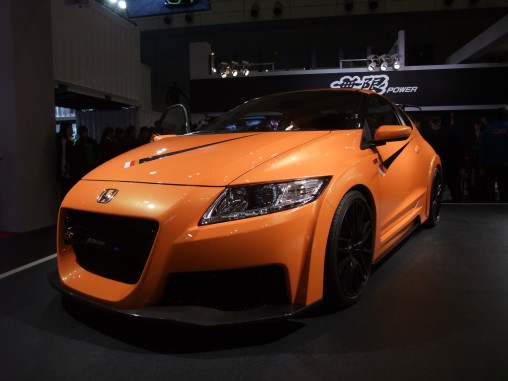 Should you force the issue, a good example of how time flies and cars that just a few years ago (even in Sweden) would be considered hot; feel sort of old and out of place.
This Mazda RX-7 by Scoot is such a car, even if we can't hold much against it since its powered by a quad-rotor engine: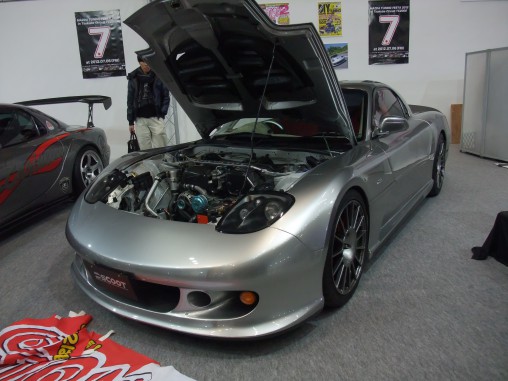 Speaking of rotaries, Mr. Ishikawa was kind enough to zoom by the RE-Amemiya stand and catch a quick video on what they had to offer.
Its mostly the Porsche influenced kits they have sold for over a decade, but in the final seconds- you get a close up of their (spacy?!) NA-powered concept car:

All the videoclips and plenty of pics between blogposts can be found on OUR FACEBOOK (CLICK!) and naturally the REVOLT-IS group, although Seiji and his crew are keeping busy during the days.
So enjoy the below gallery, feel free to comment if you have any favourites!
[nggallery id=406]
Keep an eye out here as later tonight we prepare a Nissan GT-R gallery, and a while after that a small special on all the new "AE86" being shown. Enjoy!