We like to do things our way here at Superior. And when it was time to sum up the year with one last little meet for our family and friends… we sure made no exception to that style.
Here comes a violently good gallery by several photographers, two of them established within the SUPERIOR SELECTED crew- and two extras who add even more meat to the package you're about to see.
The concept of Superior Meet 2012 was to have fun and try out some things for further developing ideas for the future.
We were surprised by getting so many high profile guests for a "test run", and couldn't ask for more when it comes to material our Filmmakers David Johansson and Daniel Hovdahl  got to work with now during winter…
– – – – –
Martin F. Persson – BILBILDER.SE:
His pictures speak volumes already, but its been outside the track; and not in the pit area- but far beyond it that Martin has proven his worth to the SUPERIOR SELECTED group.
Despite getting married late in the summer and more or less being offline for the 2nd half of it; he made a fitting "comeback" for this event. And these two handful of pictures are a good starting point for us: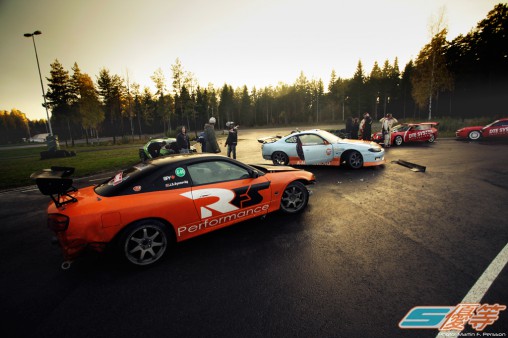 (Begin with the end? How Noir! This is what the whole day ended with, metaphorically correct with "one big bang" as six cars pushing the limits for several laps embraced the consequences with a laugh.)
(Did it rain? Sure did. And Norwegian Team RFS did not give a single f*ck that day.)
(Further proof that this might have been some extreme form of Rallycross before Drifting, and it was the most fun they've had in a good while.)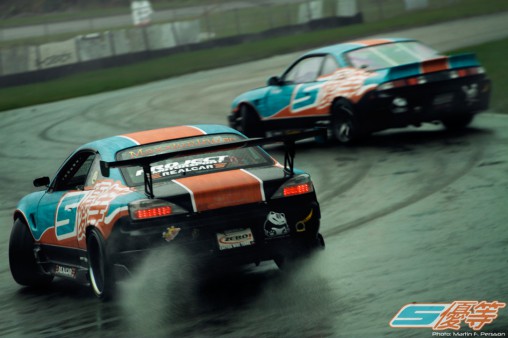 (Its been a long first season for the recently started SUPERIOR DRIFT gang, and ignition problems with the S14 while the S15 ended its day next to one big rock (!) might not have been the dream ending for the story- but we'll fix that next year better then ever!)
(Wham! Bam! Splat! Oivind Oversveen in the house with his mad "Mr. Burns" Supra!)
[nggallery id=448]
– – – – –
We added a few guys to our pretty much organic group of contributors this year. And a guy I initially labeled as a "prospect" grew faster then weed on a porch, and was suddenly delivering more high quality galleries then we could handle!
As a good friend of Daniel Hovdahl and invited drifter Kenneth Groth, he still haven't gotten a "home team discount"; the pictures are good enough to be called "Selected" anyway.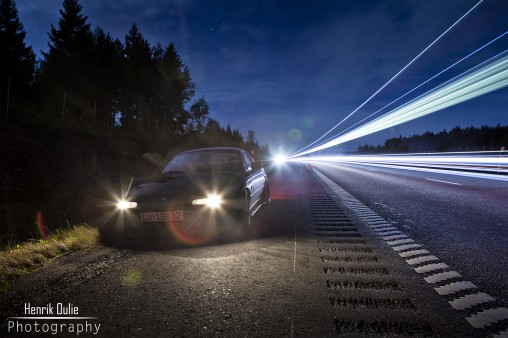 (Things started out not so hot for the little MX-5 carrying Henrik and Daniel Hovdahl: Puncture! Who could have known "stance" was impractical and dangerous?!)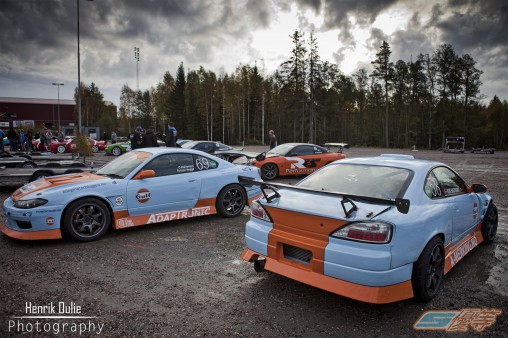 (These Gulf livery S15's belong to Christer Halvorsen, Torunn Hegge and Kim Skedsmo. They had one distinct advantage above the rest = Speed. Definately suited for both rallycross and competition Drifting.)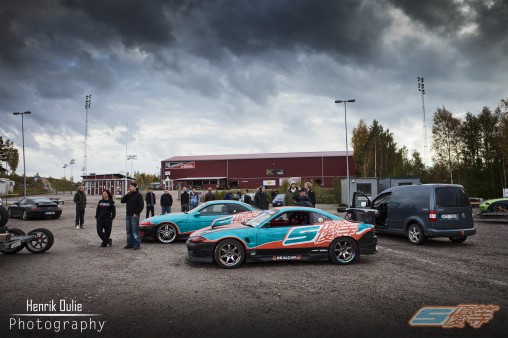 (Sweet pic of SUPERIOR DRIFT minus Daniel Asps S14, and a hella-bunch of familiar people.)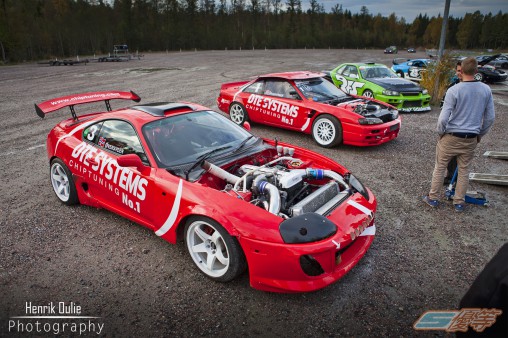 (DTE Systems which is the flag under Oversveen (Supra) and Steffen Rudsengen (LS1 S14) run under, left with cars that had more then just battle scars when the day was over…)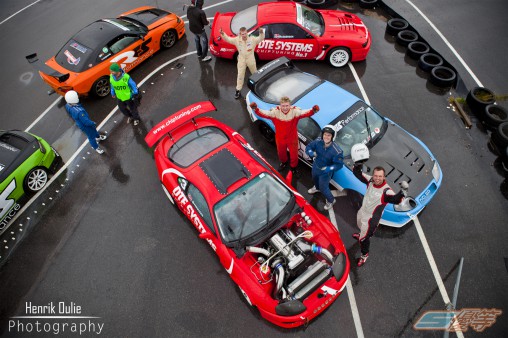 (Someone had the bright idea to try and drift the GoCart track nearby, and soon more followed. Cant wait to show you the video of that in winter…)
[nggallery id=450]
– – –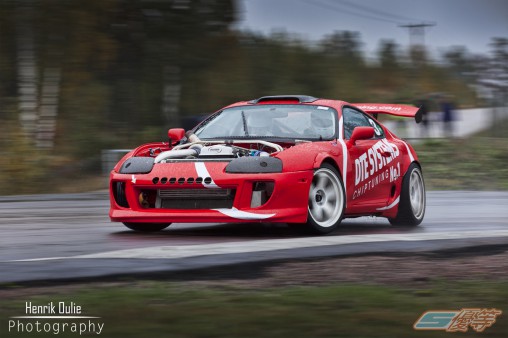 (Certainly not very often anyone is able to capture a focused pick of a mad Mr. Burns Supra…)
[nggallery id=449]
– – –
–
–
(Kenneth Groth deserved some kind of medal for the way he handled this season. One total wreck and new chassis within two weeks = you must watch the video below! Christer Halvorsen and Kim Skedsmo look on from the right.)
– – –
GIR: Gutten i Røyken – ep.1 from Daniel Hovdahl on Vimeo.
– – –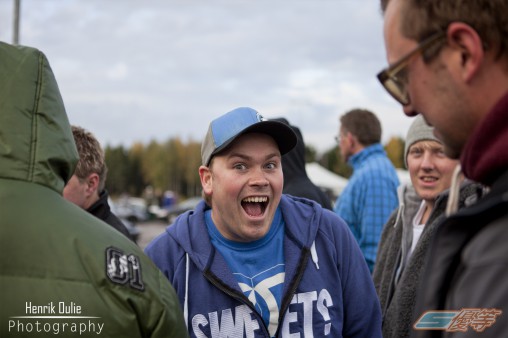 (Alvin Laegreid was one of the big contributors to this happening, bringing his buddies from Team RFS and others to the mix. Will just a "great guy" statement say it all?)
(Superior S15 driver Thompa Pettersson brough his new girlfriend along, and also let her drive his car… … … its here somewhere on how that ended.)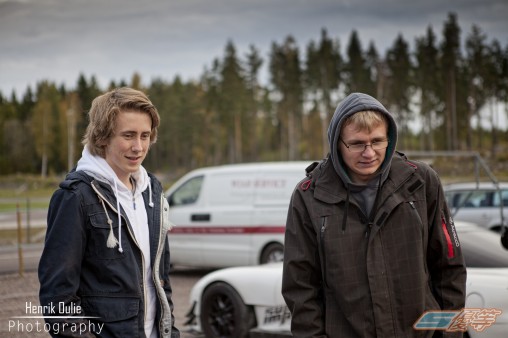 (Two frozen filmmakers with Daniel Hovdahl (left) and David Johansson (right) checking out what to hunt with their lenses throughout the day. You bet your sweet ass they got a lot of good stuff filmed that day.)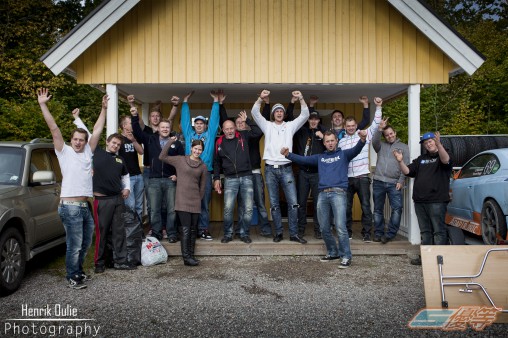 (This is the day "after" a lot of hard partying. We used the last bit of hangover energy to do this positive group photo…)
[nggallery id=451]
– – – – –
A fellow from Superior Drivers Club and been around for a while since we imported a mint condition Subaru Legacy B4 RSK 2002 for him.
Has developed a nice eye through the year and we had to include his gallery here as well: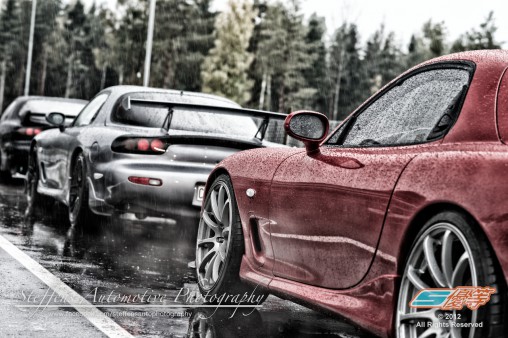 (On the track day part where a dozen or so cars took runs, there was a nice chunky part of Mazda RX-7's present.)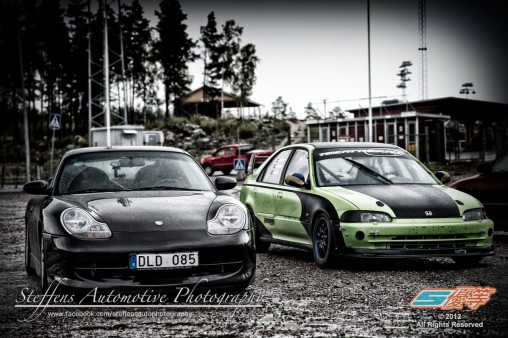 (Our friends from NKM Racing Team were there too, but without any of their TIMEATTACK.NU cars. Instead bringing their "second hand" track day racers. Lucky guys!)
[nggallery id=452]
– – –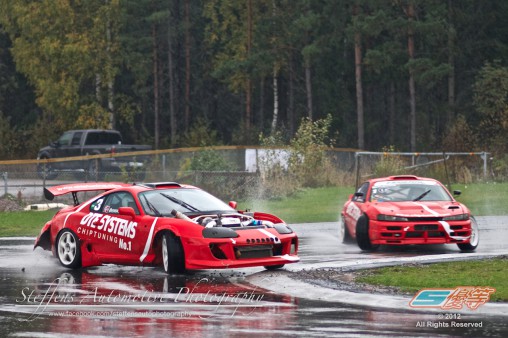 (Pretty dynamic pic, the boys from DTE Systems never seemed to go after anything else then full throttle = Holdt Stumt!)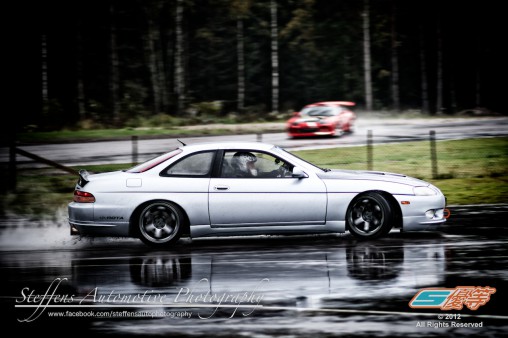 (Superior Drift crew chief Thomas Wennerström drove his Toyota Soarer JZZ30 which has a lot of smart upgrades for a potent street drifter.)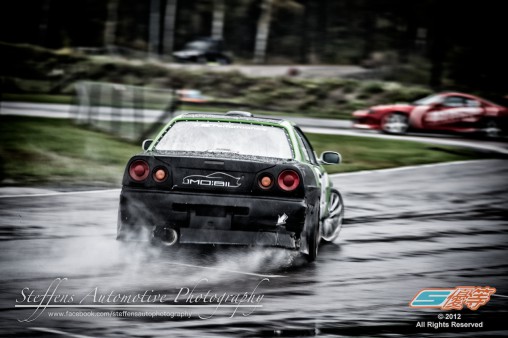 (Kenneth Nornes of Team RFS brought his 2JZ-powered ER34 Skyline and was not afraid to use it despite such a for norway rare body to drift.)
[nggallery id=453]
– – – – –
Henrik Lindqvist, Driver TIMEATTACK.NU:
For our last batch we go to a less experienced photographer, but who still captured some nice shots to describe our day in the rain.
Henrik usually drives in the TIMEATTACK.NU series with his Ford Fiesta ST, and jumped on the offer to finish the season with some practice. Enjoy: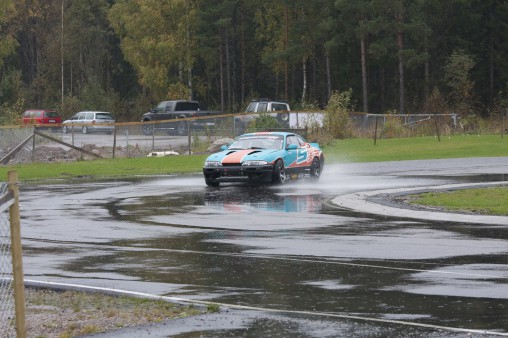 (As mentioned Daniel Asp in the SUPERIOR DRIFT S14 had troubles, and also lost his signature orange filmed lights. Better or worse without them?)
[nggallery id=454]
– – –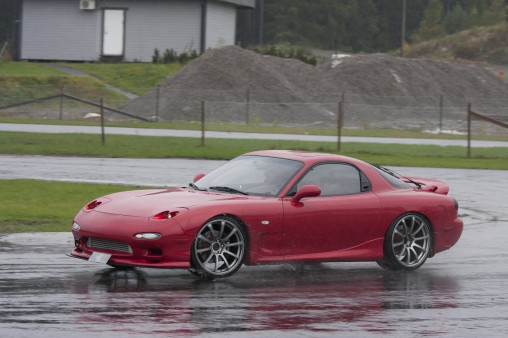 (Since you can't hear the engine sound of this unique Superior Workshop Katrineholm RX-7 with 20B-REW tripple-rotary engine, I think owner Martin "Gzon" Gustavssons choice of wheels will make you fall in love with this car: Yokohama Advan RS 19″)
[nggallery id=455]
– – –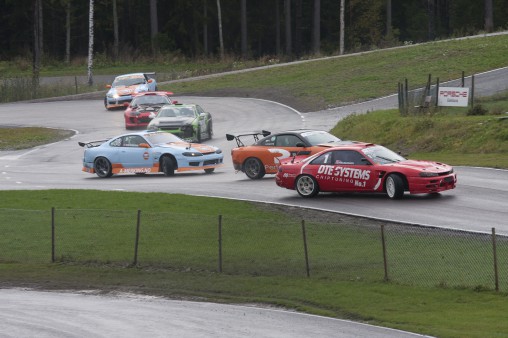 (The whole day ended with a Battle Royale that has not been seen before on Swedish ground. Video video video!)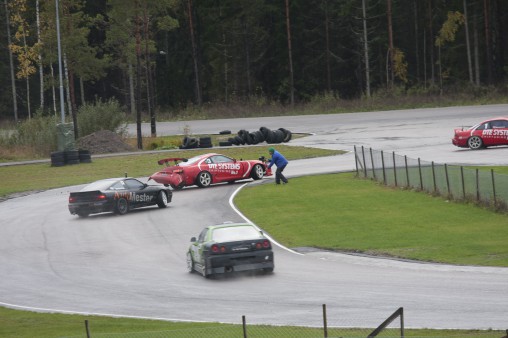 (Håvard Nesbo also helped out filming and pretty sure he got very close to the action…)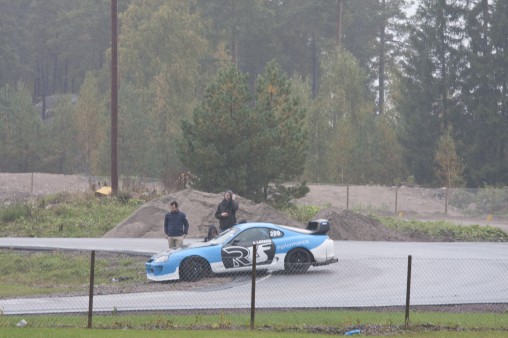 (Can you imagine getting stuck like this? Alvin Laegreid sure could. And he was not alone, plenty of spectacular accidents and everyone had a blast testing the boundries in the rain.)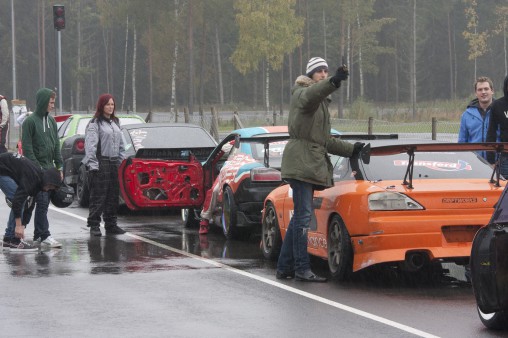 (Everyone was laughing at the guy trying to be a boss dressed in his winter-clothing. But at the end of the day… guess who was still farm and full of energy to direct the Battle Royale? 😉 )
[nggallery id=456]
– – – – –
I would like to take this opportunity to thank everyone involved in this meet, from the norwegian drifters, media, track day people, crew who helped out and all your friends brought which seemed like genuine people.
Now we are ready to take the Superior-Blog to the next level, but that will mean some sacrifices. Follow OUR FACEBOOK (CLICK!) as we share rumors and fun facts. 2013 we are coming back stronger then ever…