We deliver 30 news in 30 days, where the final act means the gates for the huge BILSPORT CUSTOM AND MOTORSHOW 2012 open up. Follow OUR FACEBOOK and THE BLOG to keep up to date!
Today we announce that Thomas Petterssons amazing Formula Drift race car, a originally Japanese built demo car- will be shown at the expo wearing its new Superior Drift Squadron livery and graphics.
This Nissan Silvia S15 came to Sweden last year, and owner "Thompa" has already gone about doing more modifications to it.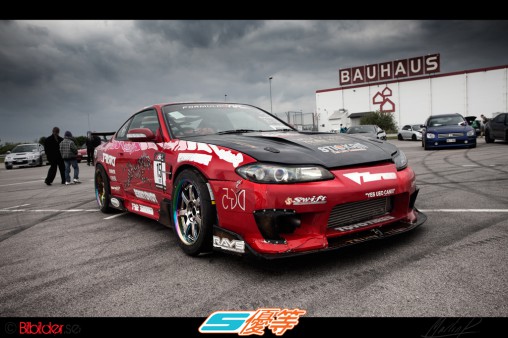 You can read more about the car on the site DRIFTED.COM where Daniel Hovdahl wrote a great piece about it doing its final dance before ripping the very battle scarred Behrman / Wise Square livery off to give it new life.
We can't reveal much more about its coming shape, or the coming drift team for that matter as well- but if you come to CUSTOM AND MOTORSHOW in Jönköping during easter weekend everything will fall into place!
CLICK HERE FOR FULL SPEC AND STORY @ DRIFTED.COM!
The car will be in GATBILAR.SE stand, and on saturday evening might do a surprise visit to the burnout event nearby the expo… 🙂