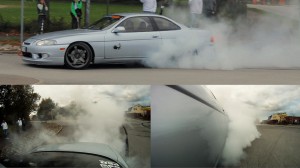 Its time to release the fun little gig we did during Superior Meet 2011 where three gentlemen put on a show to kiss this years summer away; swedish style = sick burnouts!
In honour of this sacred ritual performed to perfection, we decided to make it a fun little competition; asking all our readers, their friends and whoever appreciates proper burnouts to cast their vote on who they think did it best!
What you need to do:
1. Watch the clip below, its OK to watch it more then once. Even more then 20 times.
2. Pick out who you felt did the best one and its nobodys business how you define "best". Just pick any one of the three guys = #1 Micke_J, #2 1JZ-Tompa and #3 Gunnarsson.
3. You can cast your vote by VISITING OUR FACEBOOK and there "Like" + comments your favourite and why. Or you can just comment below here in the blog. If you share this clip make sure to ask anyone who likes to participate in the vote to do the same.
Prices for voting? Hell yeah:
We decided to mostly in the spirit of raffling (??) things, to put in a Superior T-shirt and a bunch of other surprise items to be announced soon to give away to anyone who votes. Pretty easy huh? We promise to count up all votes from as many sources possible, but  OUR FACEBOOK or commenting below is the easiest place to to do it!
VIMEO:
Hope you liked it, now you have three clear choices to cater to; and we hope that the final winner will be a worthy one with many votes to back it up. I can sincerely say that I feel all three definately plead their case as the burnout champion very well; so it will be a case of style, sound, car type etc etc that will determine the winner!
(Thanks to David Johansson for shooting and editing this video, despite tough times to deal with. You and your closest ones have the full backing of the Superior-family in your time of grief…)
Hope we will get lots of help in letting this little event get spread in the winds of your social networks. We need a big boost just in time for the release of our next monster project…
…the Gatebil Mantorp "All in" movie. Stay tuned and thanks in advance!