As always, the Swedish car-scene opens with the CUSTOM AND MOTORSHOW expo at Easter weekend- and as usual one of the most establish showcar-builder names in the country makes a big release. We would like to present Lukas Koos latest project:
Mazda RX-8 "Zitrix" (Youtube):
httpv://www.youtube.com/watch?v=iJG_ZMu3h2o
Vimeo:
Lukas Kooz – Mazda RX-8 "ZITRIX" @ Bilsport Performance & Custom Motor Show 2011 from Superior Media on Vimeo.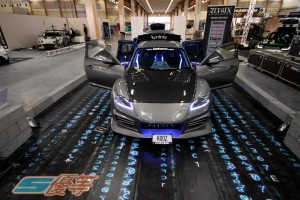 We hope you enjoy it, we will be attending the expo all weekend and hope despite a busy schedule to present similar high-quality productions of the best cars making their debuts here.
With several of the Superior-family members being here and with an almost TV-studio like arrangement- we hope you will stop by regularly to watch our clips (and naturally if you are Swedish, read our blog).
Please check our http://main.superiorimports.se/elmia-2011-blogg link all weekend, and make sure to comment if you like what you see!