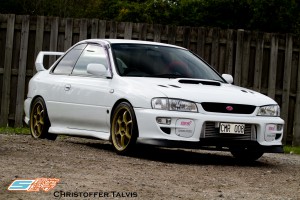 Yesterday we had our first own "Superior Meet" just to grab that one last chance for the people who support us to show up and say goodbye to the 2011 season!
With a powerdraining summer behind us, we decided to keep it simple and small- and in return got awesome quality and plenty of time to talk to everyone in the "family"!
On location we had several SUPERIOR SELECTED photographers and the first one to publish his gallery of the meet is Christoffer Talvis @ GREENLIGT MAGAZINE (be sure to check out their site and upcoming gala-dinner for all the carbuilders here in Sweden, we are attenting and so should you!).
To quickly sum up his best skills IMO, you could say he relies on pretty "natural" pics and likes to mix it up = perfect to start things of with his pics. We got a bit of everything here; people, phat JDM-cars and even some good food! Enjoy! 🙂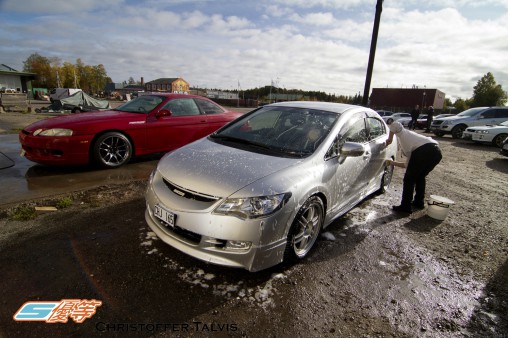 (Lets start with my personal favourite of this gallery, you have to be a little sad that this "summery" vibe is gone in a week or so; and faboulous "stock look" builds like Peter Kaldjärvs FD2 Honda Civic and Fredrik Anderssons Toyota Soarer JZZ30 VVTi will be locked away for a few months…)
(Plenty of the absolutely most loyal members of the Superior-family showed up together with some new faces. for once I felt happy to at least give everyone a few minutes of meaningful talk. We've never been good at dedicating time just to chill out, but this was as close as we came and it meant a lot to me. Thanks!)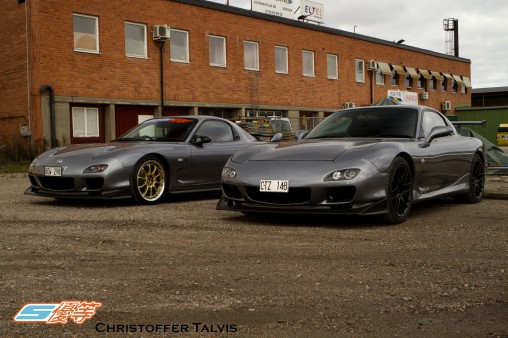 (Are you mad? Two RX-7 Spirit-R…??? Nah, "just" one Type A model with some insane Volk 19″ wheels while the other one is a very nicely done replica with at least the same production year; 2002. Can you name which brand of parts is mainly used at both? It starts with an A…)
(Several photoshoots were conducted as well, like this fantastic Mazda RX-7 RE-Amemiya N1 widebody which had a lot of people around it all the time. Here we have Jalle @ JALLEGRAPHICS being stalked by Talvis while shooting it. Guess if I can wait to see those pics or not?)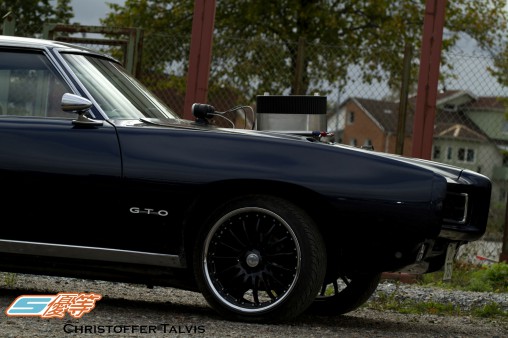 (Our friend Kalle Strand also dropped of his Pontiac GTO with a massive supercharger of at the meet before he left. It was too bad we could not find a straight 402m long road that ends with railroad-tracks. That would have been epic to say the least. 😉 )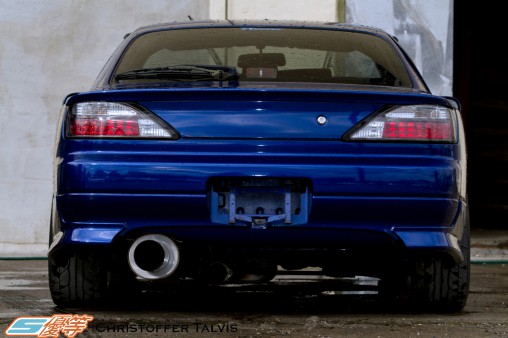 (This is how a Nissan S15 Silvia should have looked from factory, with LED-lights and that wonderful low wing which I cannot name right now. That bid HKS-exhaust does look quite better then the tiny one from factory as well. Adam Olsson who owns this quite souped up "drift me" S15 can be proud of his car!)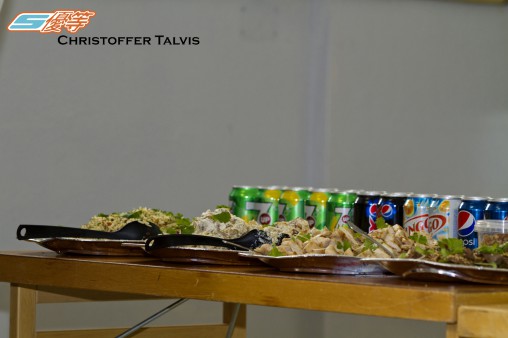 (There was a huge load of fresh homemade deli-food being served which we put a lot of love into. By far one of the highlights of the day and something we made a priority. A good meal is one of the main "easier" enjoyable things in life.)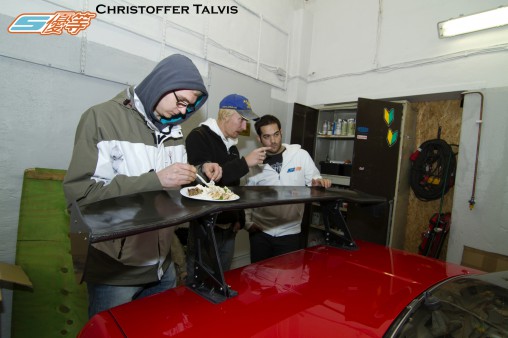 (…although some of the dudes from the city of Växjö like David, Dan and Stefanos chose a quite different place to eat from
the others. We dont have more pics of this car in this gallery as we are saving it for later, but maybe some of you that were not there can take a guess on that it is…?)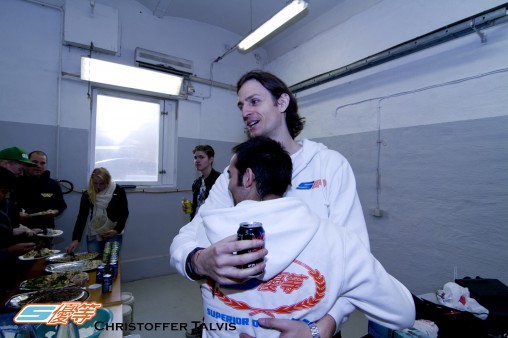 (A loooooong season surely takes it toll on you, but as the legendary song "Show must go on" by Queen says "…my makeup may be flaking, but my smile still stays on. Not that the lighting in the garage is very flattering at all, but I do need vacation even if moments like this would make me pass on that for the rest of my life.)
[nggallery id=379]
And thats the first part, which me did in English for our international fans. The others will be done in Swedish but I hope you all enjoy our posts wheter its in a different language then your first or not- the pics are the ones that speak the most anyway…. 🙂
Many thanks to Christoffer Talvis @ GREENLIGHT MAG for being so quick with these pics, and equally many thanks to all of you who showed up and closed the season in nothing less then Superior-style!