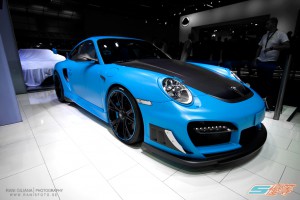 Back on the horse with our "100 SECONDS OF…" VIDEOCLIPS from the FRANKFURT IAA 2011 EXPO which we are aaalmost done with- but a great mix of videos and a handfull of photogalleries still to go.
This one is for a real beast of a car, the Techart Porsche GT Street RS! You cant dismiss that its got a unique colour, and like I say in the video everything is done with perfection.
It sures takes a tuner like Techart to make a noticable difference of the high quality the 911 already has from factory. But this one does it, and then some. Hope you like it!
VIMEO:
Frankfurt IAA Auto Expo 2011 – 100 seconds of Techart from Superior Media on Vimeo.
YOUTUBE:
httpv://www.youtube.com/watch?v=95K2FhZAbVc
You know the drill, if you want to zap around all the other "100 seconds of…" clips we did at the expo, all you need to do is CLICK THIS LINK! 🙂